Recently, one of my workshop participants asked "Why should I take time to comment on other people's blogs?" Here are some compelling reasons to make this part of your social media strategy:
Every comment adds to your online visibility. Each time your name appears on a comment, the blogger and other blog readers see you and become familiar with your name.
Building a community is a two-way conversation. By showing interest in other people's thoughts, you demonstrate how much you value their contribution to your industry.
Blog comments help establish you as an authority in your field. You also make it clear that you're a lifelong learner willing to hear new ideas. Don't be afraid to share your expertise to enhance what's already been written.
Frequent thoughtful, relevant comments on the same blog can help you build a relationship with the blogger and the audience. Check back for follow-up comments from the blogger and other readers and continue the dialogue as long as there's something meaningful to say.
Often blog comments accommodate your website listing as well as your name. These inbound links, sometimes called backlinks, add to your SEO (search engine optimization).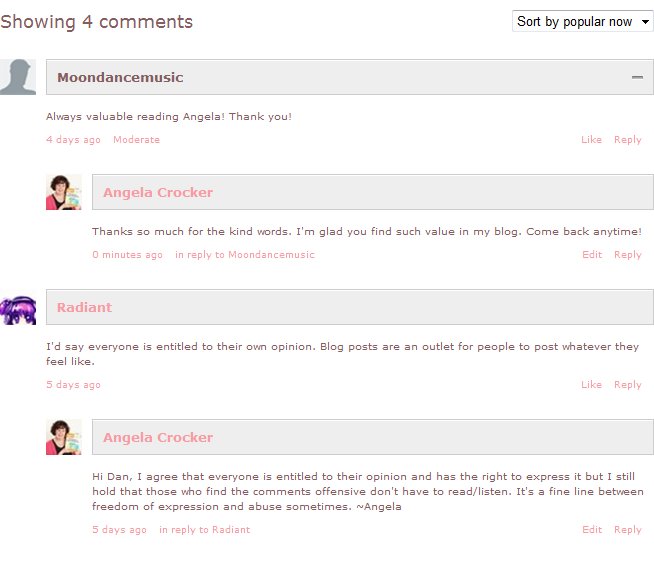 Read on for a few words of caution
Be careful about including links to your blog in the text of your comment. Anything you share must support what the blogger is doing otherwise you'll be perceived as spam.
Sometimes it's better to say nothing at all. A brief "thanks so much" may be courteous but it doesn't establish any rapport with the folks you're trying to network with.
I'd also encourage you to say nothing if you have a negative reaction to the blog post. If there's a factual error, by all means politely offer updated information but please don't post your knee jerk reaction. The damage you could do to your reputation is vast.
If you're trying to build relationships from a business point of view, I suggest you avoid commenting on religious or political blogs. Why limit your market share to only those who share your beliefs?
Be yourself. It's all about authentic relationships, right?
So stop reading this and leave a comment today.