Dear colleagues,
If you've found your way here, we must be connected through BCIT. Welcome!   I've been honored and inspired to meet so many wonderful instructors and fellow writers in the Technical Writing program.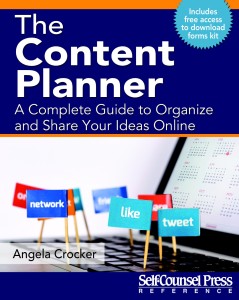 I've set up this page to invite you all to stay connected. In particular, I'd love to include you in my upcoming book launch.
As you may know, Self-Counsel Press will publish my next book, The Content Planner, in October 2016. I'm pretty excited about it and would love to share that "new book" experience with you.
To keep in the loop, please fill in the short form below.  Easy, peasy.
Thanks for your support. It means a great deal to me.
See you soon,
Angela